My first fluorescent image was of a 3T3 fibroblast:
The green in this image represents the protein actin, a major component of the cellular skeleton. The actin molecules are made visible by incorporating fluorescently labeled phalloidin.
My advisor took one look at my first images and said "You're rinsing too hard." She had seen that some of the filopodia, the slender extensions, were folded over—a clear artifact of amateur-quality staining.
Improvement came with more practice: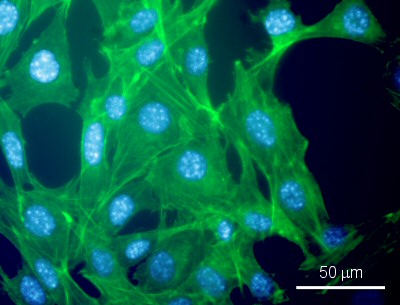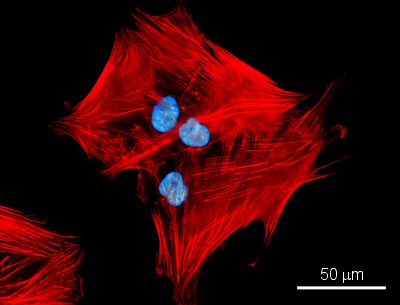 In 2007, the Cambridge Science Festival featured a Genome Trail from Kendall Square/MIT to Harvard Square. My colleague Emily Walton arranged for my image of human mesenchymal stem cells (red = actin, blue = DNA) to be used on the posters and pamphlets: